The most iconic and sought after drum machine in the world, genre-defining, used on countless hits, proving itself decade after decade, presented and represented time and time again in sample libraries, software and hardware emulations, we offer you our best-in-class take on this legendary beat machine.
Prime 8+ is designed to be the first and last word for these classic drum machine sounds. Using an old-school analog hardware approach we deliver the real hit-record sound, not just the machine, but the sound of a world-class recording studio. Starting with a full hardware inspection and restoration, we ran each sound of Prime 8+ through a Class-A signal chain and captured it using the best converters at the highest resolution available.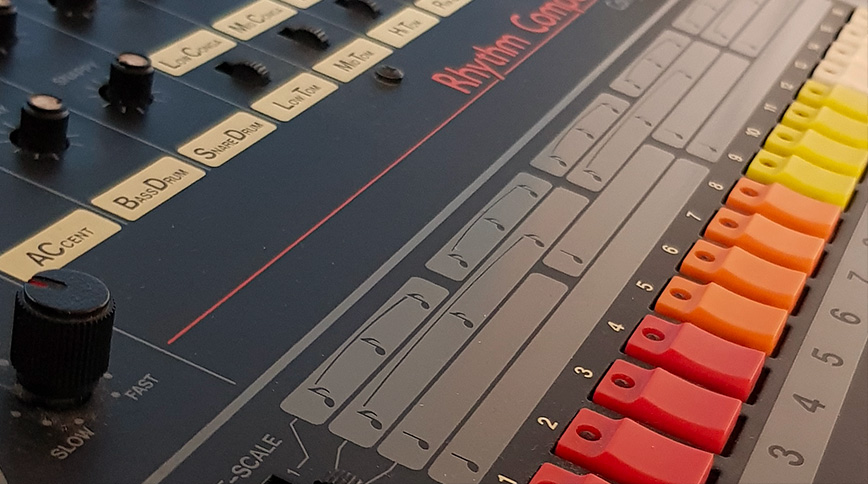 After meticulous editing, the entire library was mastered by Chris Gehringer at Sterling Sound in New York City, a modern legend of urban music and someone with a true ear for this machine. The result is a distinct and immediate punch, giving the sounds a polish, presence, and clarity that strict hardware emulations miss - and for us, it captures exactly the energy that this machine is so famous for.

Adding a little spice to the mix we've outfitted each channel with useful effects, including reverb, delay, drive, and a combo LP/HP filter, helping you to quickly create rich and dynamic instrument mixes. As well, Prime 8+ can easily switch between a single stereo output or per-channel multi-out operation allowing you to further refine your mix.

A built-in sequencer comes preloaded with over 1100 patterns, from classics to modern genre. You can easily program your own through the UI then drag-and-drop the result as MIDI to your DAW, or sequence any way you like. Over 140 handcrafted presets give you instant gratification, providing ready-to-go setups or starting points for your own design.
Also available in the Vintage Vault 4 bundle
A comprehensive collection of 36 products gives you the most important synth and drum machine sounds from the last 50 years. Created from 255 vintage instruments, Vintage Vault delivers over 14,000 hand-crafted presets from over 800,000 meticulously recorded samples. Experience the authentic sounds of vintage hardware instruments with the simplicity of software. Vintage Vault puts the history of synthesis at your fingertips!
SPECS
WHAT YOU GET
| | |
| --- | --- |
| Size: | 161.9 MB |
| Content: | 142 Presets and 446 Samples |
| Sample Resolution: | 44.1 kHz. Recording at 88.2 kHz |
| License: | 3 activations per license on any combination of machines or iLok dongles |
SYSTEM REQUIREMENTS
Runs in UVI Workstation version 3.1.3 +, and Falcon version 2.5.3+
iLok account (free, dongle not required)
Internet connection for the license activation
Supported Operating Systems:
- Mac OS X 10.14 to macOS 12 (64-bit)
- Windows 10 to Windows 11 (64-bit)
200 MB of disk space
Hard Drive: 7,200 rpm recommended or Solid State Drive (SSD)
4GB RAM (8 GB+ highly recommended for large UVI Soundbanks)
COMPATIBILITY
| | |
| --- | --- |
| Supported Formats: | Audio Unit, AAX, VST, VST3, Standalone |
| Tested and Certified in: | Digital Performer 8+, Pro Tools 11+, Logic Pro X+, Cubase 7+, Nuendo 6+, Ableton Live 8+, Studio One 2+, Garage Band 6+, Maschine 1+, Tracktion 4+, Vienna Ensemble Pro 5+, Reaper 4+, Sonar X3+, MainStage 3, MuLab 5.5+, FL Studio, Bitwig 1+, Reason 9.5+ |